~Naturally Flavored Drinking Water~
Love this idea, cuz then we can make as many different flavors to choose from, and it would be cheaper than buying a shit ton of juice and bottled water.
Water is free!
All we'd need is the fruit, which we can buy in bulk...at costco, and a few bags of ice. done.
---------------------------------
~Flavored Butter~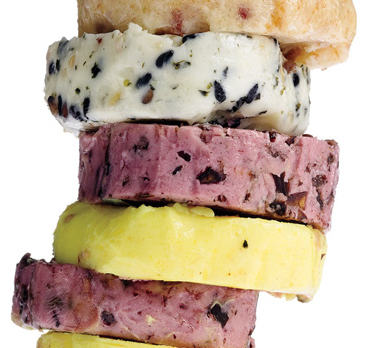 Might do a mass flavored butter making party with the wedding party.
*Recipes*
http://abeautifulmess.typepad.com/my_weblog/2012/02/3-fancy-butter-recipes.html
http://sunandglory.com/tag/flavored-butter/
http://www.taryncoxthewife.com/?p=10218
--------------------------------------------------
~Guacamole Deviled Eggs~
For my paleo dieting friends
http://www.paleoplan.com/2010/09-07/guacamole-deviled-eggs/
----------------------------------------
~Finger Food Bar~
-sausage rolls
-dinner rolls w/choice of fancy butter
-cheese and cracker platter
-cheese and fruit on toothpics
-cold cuts, cheese & cracker bar
-mini sugar toast smeared with fancy butter and topped with blackberries or sliced banana
------------------------------------------------------
----------------------------------------------